FiRST BeSTFRieND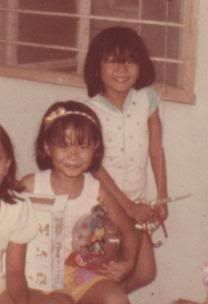 I received a Friendster testimonial from April, my very first best friend and from whom I learned the definition of a "friend".

Here is her testimonial.

Lexie is a friend whom I shared part of my childhood with. After so many years of being apart, I found her here! I have so many memories about this girl. She used to be so boyish. A daddy's girl, the princess of the house and the neighborhood's crush ng bayan. She's good in everything especially street games, climbing trees and catching dragonflies. She taught me how to catch ants, make gumamela bubbles, spray air freshener to their dogs, ride the skateboard and how to break in through their window whenever they left the key inside. Now you couldn't imagine she was the same girl because she grew up to be very very LADYLIKE. But Im sure she still has the spunk. ;) Lexie, I hope to see you again someday =)

Guys, can you believe that I've done these things? Hahaha... Dati I'm so maldita, bulugan, suplada, mataray and masungit (ngayon slight na lang...hahaha).

I'm so touched that she still remembers all of these. Well I really do hope that I could see her again SOON because her testimonial made me miss her...



chum chants the magic words at 10:46 AM||



* * * *
* * * *